Yung Wei Yang (TPE) needs no introduction. At 24, the discreet but explosive judoka is nonetheless the world number one and silver medallist at the last Olympic Games, not to mention the many other medals he has already collected on the world circuit. Seeded number one, he was the big favourite and it was therefore no surprise that we found him in the final after three victories, all obtained with a positive score.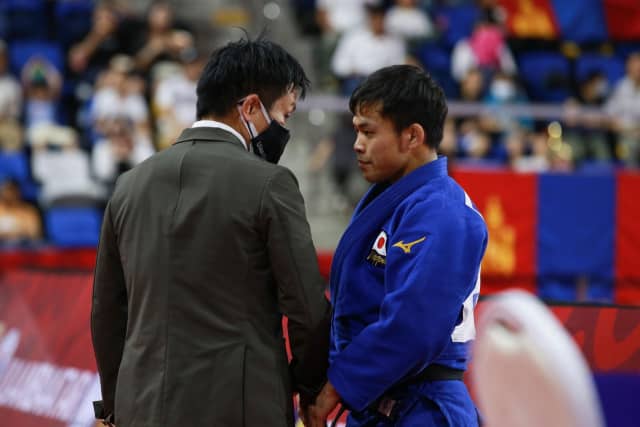 Opposite him, without much surprise either, it was Ryuju Nagayama (JPN) who made his talent speak. It must be said that with two World Judo Masters titles and eleven grand slam medals, the Japanese is a safe bet. Already a winner in Paris in February, in Tashkent and in Paris last year, he continues on his way.
Despite the pedigree of Yang in recent months, the first in action and more importantly the first to score, was Nagayama who produced a nice seoi-nage for waza-ari. Under Yang's pressure, the Japanese competitor received a shido for passivity. Would that be enough to push him to be penalised even more? Niot sure, especially since Yang lost a lot of times on the ground trying to turn Nagayama over, which was clearly a tactical error. The final gong resonated in the venue, for the second Japanese win of the day. This is medal number 9 for Nagayama and a clear domination of the light weight category.
Harim Lee (KOR) and KOKOLAYEV Matan (ISR) were opposed in the first bronze medal contest. After one minute, the judoka had a shido each to their names for passivity. We had to wait until the last minute to see the first really powerful attack from Lee but for no score. The Korean was then penalised a second time as he launched a desperate technique, simply to avoid being thrown. It was time for golden score. It was clear that to find a solution the athletes had to break the distance, which they actually couldn't so we witnessed a festival of attacks going in all directions but none of them, being still sometimes spectacular, seemed to be efficient enough to score. It was eventually on the ground that Lee found the solution, with an arm-lock for ippon.
Mongolian athletes produced hard-hitting and spectacular judo throughout the day, combining both power and finesse. It was therefore not surprising to find several Mongolian competitors in the final block, such as Ariunbold Enkhtaivan and Sumiyabazar Enkhtaivan who, despite the same name, have no family ties. Knowing each other perfectly, the two Enkhtaivans were penalised with shido after one and a half minutes. It is always complicated to play against a compatriot. First of all you know exactly what they do and secondly, you don't want to lose at all. This creates tense matches where tactics play an important role. With less than a minute to go, Ariunbold was penalised a second time. With a few seconds to go, Sumiyabazar believed he scored a waza-ari but this was cancelled. Golden score! It was eventually, after the last false attack of Ariunbold, that Sumiyabazar could let his joy explode.
Final
YANG Yung Wei (TPE) vs NAGAYAMA Ryuju (JPN)
Bronze Medal Fights
ENKHTAIVAN Ariunbold (MGL) vs ENKHTAIVAN Sumiyabazar (MGL)
LEE Harim (KOR) vs KOKOLAYEV Matan (ISR)
Final Results
1. NAGAYAMA Ryuju (JPN)
2. YANG Yung Wei (TPE)
3. LEE Harim (KOR)
3. ENKHTAIVAN Sumiyabazar (MGL)
5. KOKOLAYEV Matan (ISR)
5. ENKHTAIVAN Ariunbold (MGL)
7. LOPES Rodrigo Costa (POR)
7. TSJAKADOEA Tornike (NED)