Between Pretoria and Ulaanbaatar there are 17,027 kilometres. Geronay Whitebooi travelled from the South African capital to the Mongolian capital with two goals in mind: get through the first round and don't disappoint.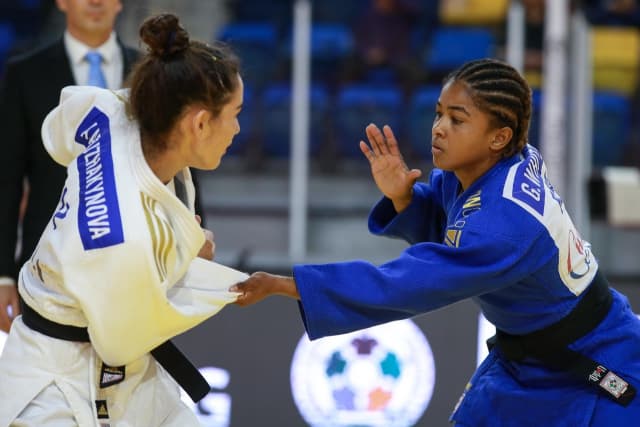 At 3:48 p.m. local time, Geronay is in a flood of tears. She can't contain them, she doesn't breathe well either. Hers is not a physical problem, but a mental one, even a spiritual one. The South African has just put on her best performance on the World Judo Tour, but it has a bitter aftertaste. Her seventh place in the -48kg category is an achievement that does not elicit a smile from this 26-year-old woman. Her eyes shine brightly, they look like the tears of the sun. 
"I was tired of losing in the first round," she says, "but there was very little missing, almost nothing, a detail to win my second fight. Since I don't have the money to travel more often, I can only compete at the highest level on a few occasions." 
The real problem is that, the money. Geronay comes from a country with few resources for judo. "If it wasn't for the help I get from the International Judo Federation, I wouldn't even be able to participate in the few tournaments I do go to and that hurts me, it hurts a lot not being able to give back to the IJF the support I receive, with victories." 
Disappointment is worse than hate because it usually occurs with loved ones. The reality is that Whitebooi needs more competition, to rub shoulders with the highest level. 
"I see what I am capable of in training. I work a lot and I take it very seriously but when a tournament comes and I can travel, it turns out that there is no money for my coach to accompany me. It's frustrating because I think I can do better." 
In Mongolia, Geronay reached her first goal, getting out of the first round, by defeating the Uzbek Gulnur Muratbaeva. It was not just the victory but the way of winning. Geronay is one of those who attacks, doesn't hide, doesn't wait, tries to throw the opponent, whoever she is. She is a breath of fresh air. 
As for her second objective, there is a division of criteria here. For her, of course, the quarter-final loss to Kazakh Abiba Abuzhakynova is a tremendous disappointment. That's why she cries so much and why she can't breathe. For us, what she has done is a source of pride, for the sacrifice, for not giving up, for proposing an offensive and joyful judo. In the end, there is a tie, we did not manage to convince her at all, but we did make her smile. 
Her next stop will be the Commonwealth Games, where we'll be keeping a close eye on her. Then, in October, the world championships, where we will also put a magnifying glass on her. Geronay Whitebooi, a 26-year-old South African, gave us one of those lessons that is not forgotten, because she made us see that humility is important, but if it can be improved with talent and effort why deprive yourself of a better future? It's what she's looking for, she just needs one more push and a little money.