The man is passionate, to say the least. Present from the first minutes of competition, he spends hours watching each match, noting the result and carefully analysing what he sees. This man is none other than the President of the Mongolian Judo Federation and former President of the Republic, H.E. Khaltmaa Battulga. As the preliminary rounds of the second day of competition of the Ulaanbaatar Grand Slam have just ended and before he re-takes his seat to follow the final block, we asked him what he thought of the event so far.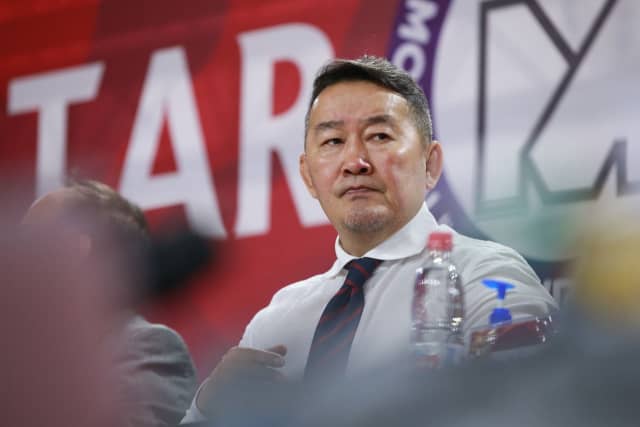 "I feel really good. I'm here in an environment that I appreciate and in which I feel like family. It's a fantastic feeling. To have a grand slam here in Ulaanbaatar was the dream of a whole nation that has been passionate about judo for a very long time. It was a great challenge for our federation to move from organising a grand prix, the last of which was six years ago, to a grand slam. This is the higher category and we had to work a lot to get there. I think we can see the result of this work today and that also puts me in a good mood.
We are only halfway through the competition, so I cannot yet draw up a complete sports report. During the first day we had very good results and this is motivating for all our young people. What is also interesting is that some of our athletes who were expected at the top of the podium did not succeed. On the other hand, others who were perhaps a little less expected were present and won gold. This shows the richness of our judo.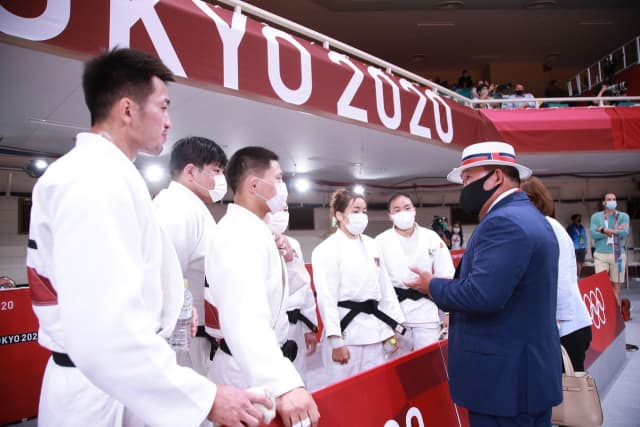 I think you could say that Mongolian judo is special. It is special in the sense that it inherited our long Mongolian wrestling tradition. We have this in our blood and I believe that the secret of our success lies in this heritage which adapts perfectly to the values of judo and which today works wonders with our athletes."
The words are concise and precise. They are based on years of knowledge of judo and sports, "I started doing judo when I was a child and I have been practising it for more than forty years. I can say that I know a little, but above all, I find it exciting to follow the competitions. Being here at home, I can't imagine missing a match."
H.E. Khaltmaa Battulga is a happy president and perhaps even more a happy judoka whose passion spreads through all strata of the federation. This is undoubtedly one of the other secrets of Mongolian judo.
Opening Ceremony
After the colorful performance of the 'Tsagaan Lavai' ensemble which allowed the audience to get a good idea of the richness of Mongolian culture, H.E. Khaltmaa Battulga took the floor for his opening speech.
"Dear judo fans, athletes, coaches, referees and officials. The Grand Slam Ulaanbaatar 2022 is the first Olympic qualifying tournament for the Paris 2024 Olympic Games and we are pleased to announce that 255 athletes from 30 countries are participating in this grand slam.
A high-level World Judo Tour competition is being held again in Mongolia after 6 years. It is a great event to fulfill the long-term aspirations of sports fans. I would like to expresse my gratitude to Mr Marius Vizer, President of the International Judo Federation, members of the board and other officials for this opportunity.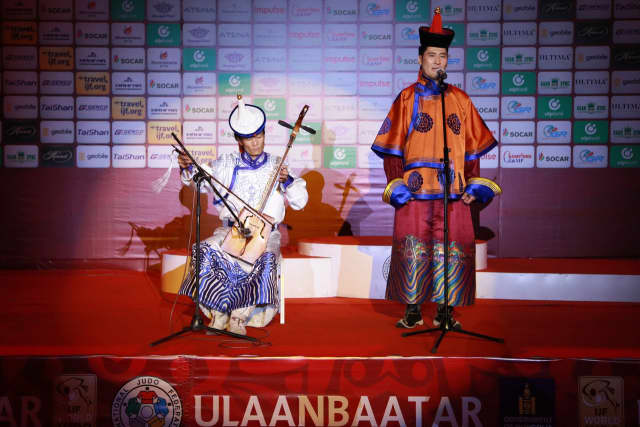 I would like to express my special gratitude to the President of Mongolia, Ukhnaagiin Khurelsukh, and his administration office to promote the organisation of the tournament under the President's auspices. The Grand Slam is named after our capital Ulaanbaatar, thus special thanks to the city mayor's office and office of the President for all kinds of support and cooperation. 
I am confident that the Grand Slam Ulaanbaatar 2022 will be organised successfully and athletes will be able to compete fairly.
Since sport's purpose is to promote peace throughout the world, it is separate from all forms of discrimination, politicisation, hatred and racism.
Good luck to everyone and welcome to Mongolia, the birthplace of Genghis Khan."
Then Vlad Marinescu, IJF Director General, took the floor, "President Baltulga, dear spectators, judoka, ladies and gentlemen. Sport is the bridge between people for peace and mutual respect. Judo promotes those values. Judo teaches the youth how to live together with a better life. In judo you must be physically and mentally strong to win.
We would like to express our gratitude to the Mongolian Judo Association and its President and to the President of the country. It is our pleasure to begin the Olympic qualification for Paris 2024 here in the beautiful city of Ulaanbaatar in front of this great audience. 
I wish the spectators a fantastic show and the athletes success.
On behalf of our President, Mr Marius Vizer and of our federation, I declare the Grand Slam Ulaanbaatar 2022 open."