If you couldn't follow the first day of judo from the Tashkent Grand Slam 2021, no problem, here you have some of the best action to review.
We are used to seeing athletes going up a weight category during their career, or even 2 or 3. We have examples of athletes who won double world medals in 2 different categories, like Ilias Iliadis (GRE) or Lukas KRPALEK (CZE).
Kye Sun-Hui (PRK) had a particularly successful career and won medals in different weight categories at the Olympic Games. In Atlanta 1996, she got a wildcard to participate in the Games, at only 16 years old. She won the women's -48kg gold medal by beating Japan's super-favourite star Ryoko Tani (JPN) in the final.
Without doubt, she was the biggest surprise in Olympic history at the time. Kye became the youngest Olympic gold medallist in history. Four years later at the Sydney 2000 Olympic Games, she won bronze in the -52kg category and completed her collection with the -57kg silver medal in Athens 2004. In addition to the Olympic medals, Kye also won 4 world titles. What a beautiful career: 3 Olympic medals in 3 different categories and 4 world titles!
Talking about the history of the youngest gold medallist at the Olympics, the record-holder for men, is the UZB home coach Ilias Iliadis (GRE), winning at only 17 years old. The young Greek athlete was also a huge surprise in Athens, as he defeated Kwon Young-woo (KOR) and Dimitri Nossov (RUS). 2 Olympic cycles later, in London 2012, in the category -90kg, he took bronze.
It is rare that you see athletes going down one category and even more rare if they were good in another one, but this can happen for several reasons, most often because there is a very strong athlete already in the category from the same country and there's only one place for the Olympics per nation.
We had the example of Gevrise Emane from France, who was world champion at -70kg and years later also at -63kg, because there was another woman taking the -70 kg category, Lucie Decosse, who became Olympic Champion in London.
The Kosovo women's team have improved more than ever and judo is growing there so much. Judo became very popular after the historical first medal for KOS at the Olympic Games in Rio de Janeiro 2016, with Majlinda KELMENDI. We also have another top level athlete in the same category who has been under the spotlights for many years, Distria KRASNIQI. She is currently competing in the -48kg group. Remember that she was one of the best athletes at -52kg and that she won the Paris Grand Slam 2020 when she had already dropped to -48kg.
Who shone yesterday was Natsumi TSUNODA (JPN), former world silver medallist in 2017 at -52kg and Masters winner in Guangzhou in 2018, when she defeated the current world number 1 Amandine Buchard (FRA), also at -52kg. She was given an opportunity by the AJJF to compete in the -48kg category.
But lets go to yesterday's techniques that scored beautiful ippons and even waza-ari.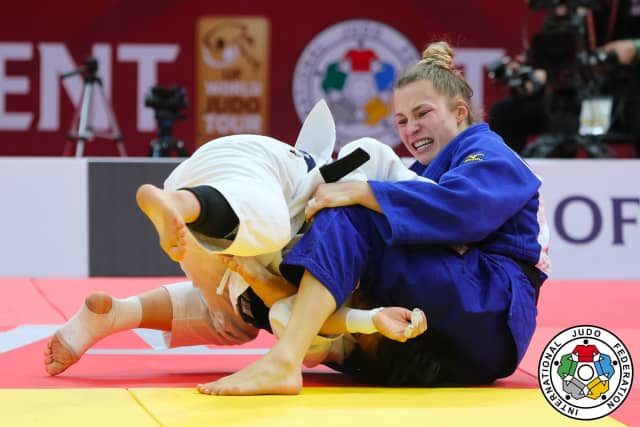 -48kg: If you are fan of transitions from standing positions to the ground, you must put your eyes on these 2 extraordinary athletes.
Natsumi Tsunoda of Japan is crazy about juji-gatame. She does it most of the time as a transition from standing to ground. Each of her movements in tachi-waza has a goal: go to the ground and work there. She often does tomoe-nage and sometimes she is at the limit of false attack, but you can see that when she does it she goes right ahead catching the opponent's arm with her two hands. She's an expert in this technical element of judo. All attacks she does have one goal: the ne-waza ippon.
Sometimes Tsunoda works for more than 30 seconds on the ground and you may be asking yourself how this is possible, because you often see referees calling for 'mate,' but in judo, as long as the referee considers that there is constructive work, you are allowed to stay there, because judo is also ground work.
There are 22 katame-waza techniques (osaekomi-waza, shime-waza, kansetsu-waza), plus myriad variations. You can combine them with all the standing techniques. It is very common to see an athlete attacking just to connect the standing work and the ground work for the ippon. If you take a very close look at those transitions, you can observe very well that they are not even on the ground and Tsunoda is already grasping the opponent's arm with both hands, passing her leg (knee) through the opponent's head. Take a look at the video and you will understand better what we are talking about.
Tsunoda in action - CLICK HERE
The second athlete who is well known for her ability to score on the ground is MUNKHBAT Urantsetseg (MGL). This is a different story though as you don't see her doing so many tomoe-nage attacks for transition. She is attacking the legs more with ashi-waza, such ko-uchi-gari or ko-soto-gari. She then takes advantage of the mistakes and false attacks of her opponents. She jumps on their back, puts one leg in and starts working for sankaku-jime.
If she can cross the legs in sankaku-jime (you can see a triangle made with her legs, where you always need to have the head and an arm of the opponent), she turns her stomach to the floor, catches a leg or under the body and turns to osaekomi-waza. After that, 20 seconds is enough to score ippon, or she may even perform a shime-waza with the legs, leading the opponent to tap.
Talking about MUNKHBAT, you can also watch the amazing tani-otoshi she scored against Tsunoda. It was beautiful and elegant, and probably one of the ippon of the day. This is what we like to see in judo. Finals with big trows. 
Video MUNKHBAT, Urantsetseg (MGL): CLICK HERE
Moving away from these masters of transition at -48kg and heading up the categories into -57kg we can find the strong German judoka Theresa STOLL. We can continue a bit with the throws, so let's take a look at her ko-soto-gake. Watch STOLL when the Italian Martina LO GIUDICE enters her leg for o-uchi-gari without 100% of her power to throw Stoll. An experienced athlete, as the German is, takes advantage of the situation and hooks the leg of the Italian and with her strong kumi-kata she puts all her weight on her opponent, for a beautiful waza-ari, followed by osai-komi.
Video of Stoll: CLICK HERE
This is judo! Enjoy the mistakes of the opponents, using them for our own benefit, a beautiful example of that is Tsubame-gaeshi - CLICK HERE
From transitions through the weight categories to transitions from standing to ground, we can find all the illustrations we need to prove that Judo is a game of adaptation, one that bends and contorts to make the most of every circumstance. The real champions are those who understand that to adapt is to overcome.