For several weeks we have been talking about it and for several weeks the tension was mounting, but a positive and exciting tension. On 28th and 29th November, we finally celebrated an event which took place forty years ago and which marked an evolution of judo, forever changed. This event was the first women's world championships in history, held in New York in 1980.
Beyond the joy of meeting the participants after all this time and exchanging emotional memories, this celebration orchestrated by the Gender Equity Commission, led by Dr. Lisa Allan, allowed us to highlight the extraordinary work of Rusty Kanokogi who, against all odds, mobilised generations of competitors and organisers.
Things were not simple, the pitfalls numerous, but nothing could prevent Rusty Kanokogi and her troop from making a sensational entry into the international sporting landscape. The World Championships in New York were an important step before women's judo could be included in the Olympic Games. Without this step and the determination of the organisers, nothing would have been possible in that timeframe, a guaranteed postponement of progress.
Watch below the first webinar
Marius Vizer, IJF President, said during his address to the participants of the webinars, "Dear judo family, on the occasion of the 40th anniversary of the first Women's World Judo Championships, I would like to congratulate and express my gratitude to the women in our judo family, as well as those who have contributed to promoting, encouraging and sharing our passion for judo and its values. Today we take a moment to celebrate this meaningful and inspiring event for judo, sport and society. Today judo is celebrated as a model of equality and equity between men and women. I am proud to say that next year the participation at the Olympic Games in Tokyo will be exactly 50% for men and 50% for women, but the road to here has not been easy and this world championships paved the way for many generations of aspiring athletes to come."
For most of the participants of the New York worlds, it was their first big trip outside of their country and it is fair to say that arriving in New York was an extraordinary adventure, which the guests of the two webinars particularly emphasised. If today it is possible to look back on this fantastic journey, at the time many did not yet measure the impact of it. The two online sessions, organised by the International Judo Federation, made it possible to rediscover the spirit of camaraderie which, despite the stakes of the competition, prevailed at the time.
Watch below the second webinar
Yes, it was a planetary competition and yes, there were world titles to be awarded. Yes, the competition was fierce, but all the participants also became unwavering friends who felt immense pleasure to reunite 'virtually,' due to the current impossibility of meeting physically in this shared period of health concerns.
It seems there is no virus, no matter how bad, that could prevent the judo family from coming together to properly celebrate a pioneering generation in the development of women's sport.
In two webinars, each of 1h30, more than a dozen panelists were able to exchange anecdotes, emotional and funny memories and share their passion for judo and its values. We had tears of joy, we were moved by images that suddenly reappeared, we had thoughts for those who have left us, we spent a lot of time laughing naturally and nostalgically and we were happy to hear so many beautiful words that have inspired and will continue to inspire the new generations of judoka. These women are the heirs of a time that those younger than twenty years old can not know, heirs who deserved to be brought to light.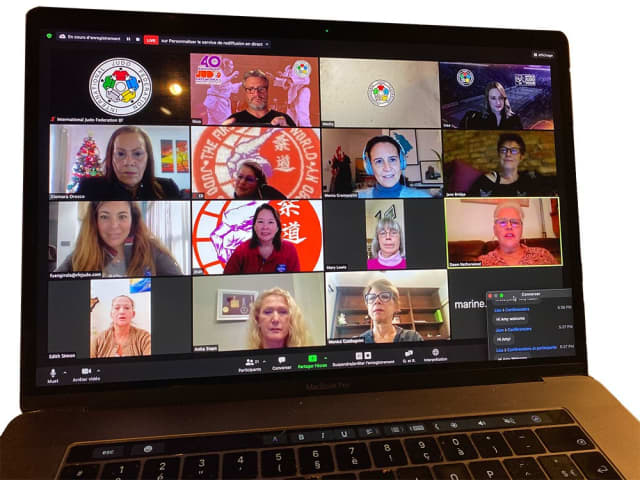 Rusty Kanokogi's spirit was present and put back under the spotlight by her daughter, Jean, who said, "Rusty gave us the tools to fight for equality and to open doors for others. This journey embraces the triumph of the past but it also celebrates the progress of the future."
The testimonies of the participants of the New York Championships were so numerous that it is difficult to summarise them and we invite you to review the two webinars. We will nevertheless retain a few strong sentences that were offered:
- I finished playing judo, but I never stopped loving judo
- Judo really shaped my life.
- It was amazing to be there.
- Today, meeting all of you, I am as excited as I was 40 years ago.
- This competition had to happen, if we wanted to go to the Olympic Games.
- My life started in New York.
- This event helped me to make judo my whole family life.
- It was an absolute blessing and after it we built strong friendships between all of us.
- We didn't have anything at the time, but we were happy and we are still happy.
- Rusty was our judo mother. New York was so important.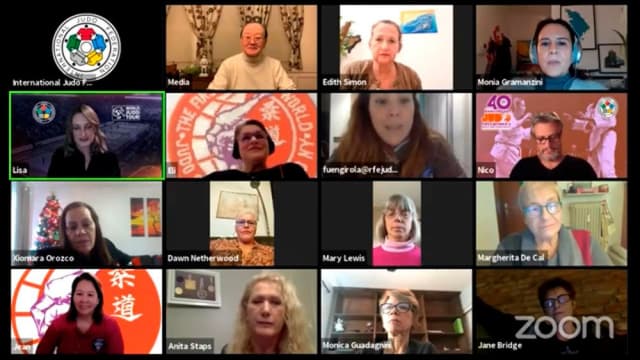 It is only when you listen to this that you understand how the first women's world championships change the course of history, but what was so clearly important too, is that it was not only about women's judo, but about the development of our sport as a modern activity that today looks at everyone without any kind of discrimination.
To celebrate the event was exciting and very emotional. For the very first time, the IJF used a brand new format to share our values with everyone. For sure, we will all meet again for future celebrations.
Lisa Allan concluded the two-day webinars, "It was a fascinating seminar. We thank all the panelists for sharing their stories and for being a key part of the progress of women's judo and the whole sport movement. We focused on women, but there are a lot of men who supported us and we want to acknowledge them as well. I want to conclude by saying that you lit the torch, you told us to be strong and although the road ahead is tough, you showed us we belong. Happy anniversary everybody."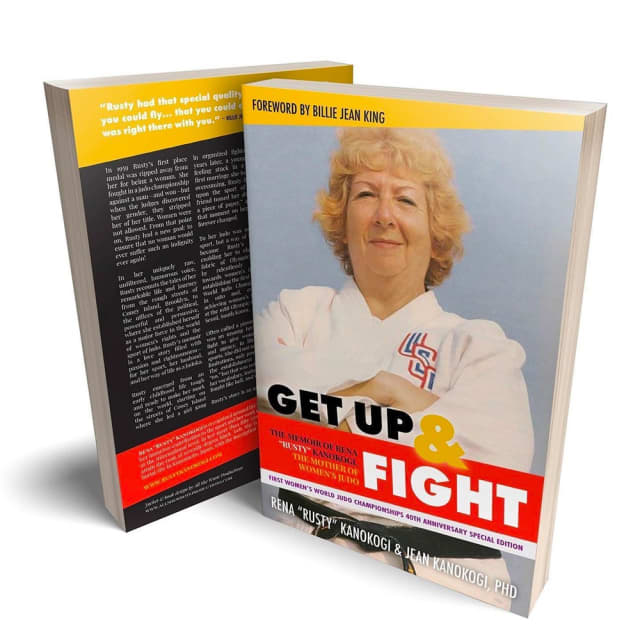 Rusty's book 'Get Up and Fight' was recently reviewed by 'That's All She Wrote,'
"Forty years ago today Rusty Kanokogi made history for women, for judo and for the world of international sports, kicking off the first Women's World Judo Championships at Madison Square Garden. The event, which brought together the top female judo competitors from over 27 countries, was a huge step forward for women in judo and a massive accomplishment on the road to the inclusion of women's judo in the Olympic Games in 1988. Rusty worked tirelessly for decades prior to the first Women's Worlds and continued for decades after it, fighting for equality for all in the sport she loved and outside of it."
As part of the celebrations, it's our great pleasure to announce the release of a very special early edition of Rusty's memoir, 'Get Up & Fight,' for the 40th Anniversary of the first Women's World Judo Championships.
The book spans more than fifty years (and more than 500 pages) and will have you laughing, crying, and itching to pick up her mantle and continue the fight of a lifetime.
More info: https://www.rustykanokogi.com/product-page/get-up-fight-the-memoir-of-rusty-kanokogi-special-edition-40th-anniversary
List of webinar panelists Jean Kanokogi USA Jane Bridge GBR 48 kg Mary Lewis USA 48 kg Monica Guadagnini ARG 61 kg Xiomara Orozco VEN 61 kg Anita Staps NED 61 kg Edith Simon AUT 66 kg Dawn Netherwood GBR 66 kg Margherita De Cal ITA +72 kg Loretta Doyle GBR 56 kg Karen Krüger GER 66 kg Kerrye Daniels AUS 72 kg Cristina Fiorentini ITA 72 kg Ingrid Berghmans BEL +72 kg and open Marjolein Van Unen NED +72 kg and open
IJF Team Gender Equity Director and presenter: Dr. Lisa Allan IT Director: Matthias Fischer Facilitators: Elisabetta Fratini, Nicolas Messner French Translation: Marine Stroobants Italian Translation: Monia Gramanzini Spanish Translation: Carmen Calvo and Sara Alvarez